It's Official, Downtown LA is on Top! The only thing higher is you, especially after a few signature cocktails high above the city. Check out Downtown Weekly's 10 Great Places for Rooftop Cocktails in DTLA.

ONE: The Nixo at Luxe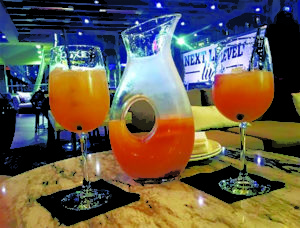 Be the envy of LA LIVE with this youthful yet sophisticated crowd. Whether enjoying the game or great cigar, winding down during happy hour, or getting together with friends, the Nixo at Luxe is the best choice for class that's not overly pretentious. Nixo global kitchen + patio lounge features light bites, specialty cocktails, and extreme ambiance. Located on the second-floor, rooftop patio of the Luxe City Center Hotel, Nixo offers live entertainment at no cover charge to Next Level Live, every Saturday night from 8pm – 11pm.  Every Sunday they have Gerry Rothschild Band's relaxing mix of blues, classic rock and country, 4pm – 7pm. Perfect for a Sunday afternoon with bottomless mimosas available for $18. luxecitycenter.com
TWO: LA Football Club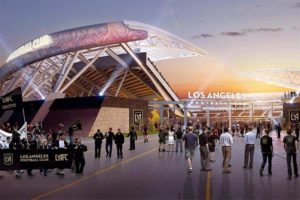 Expo/USC just opened the brand new Banc Of California Stadium. The intimate stadium holds 22,000 people. BCS not only provides fans a panoramic view of the field but also breaks the mold when it comes to hosting premium VIP events. LAFC's spacious party suites entertain up to 30 guests and feature rooftop lounge vantage point to the field. Restaurants, lounges, even an outdoor wading pool accentuate the stadium for a VIP experience unlike any other. Enjoy the game more with exclusive access to the newest and most unique club spaces in LA. Space is limited, book this year's private cocktail bash before the calendar fills. www.lafc.com
THREE: Perch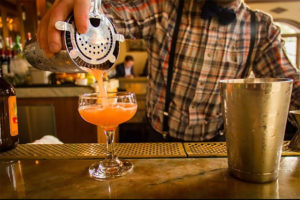 One of Downtown's pioneering nesting rooftop situations. Perch is located on the 13th and 15th floors of the historic Pershing Building. Enter the lobby, take the elevator past the eel to the "BIRD Floor" and exit the lift – where you must play the secret note on the old piano for entry. Just kidding…
But, that would be cool and hey, there is an eel in the lobby. Either way, once you've arrived chances are you will find you fit comfortably within Perch's copious surroundings. Downtown Weekly recommends the Midnight in Paris, a mix of Park VS Cognac, Green Mark Vodka, crème de peche, lemon, and orange. It's like midnight, early morning and high noon for your liver all at once. Sip and enjoy while being virtually surrounded by the murmur of a dozen confirmations, live jazz and some of downtown's most historic uprights. Look over Pershing Square to the south, face the Spring Street Strip  to the east or dine face to face with the Historic CalEdison Building on Perch's westside patio. 448 S Hill Street, 90013. perchla.com
FOUR: The Standard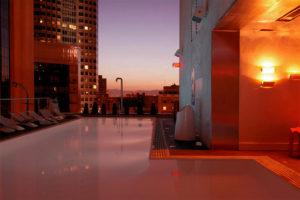 The Standard is 12 Stories of youthful travelers, mostly under 35, who don't yet suffer from the effects of age; including gravity, wrinkles, balding or shyness. RSVP for the Rooftop's pool parties. Take the escalator to the elevator, do not pass the Ping Pong Club, then make your way to the upper level for gatherings that begin midday and linger until closing any given weekend. The crowd is wet and wild, and the drinks are plentiful. May we recommend an accessory to go with that Standard issued white string bikini? A Raspberry Beret perhaps? At Standard, the Raspberry Beret is a splendid mix of premium vodka, raspberry, elderflower liqueur, lime to compliment any outfit.  Swim, dance, relax and make friends while enjoying Standard's waterbed lounging pods, wading pool, fire pits and close up electric view of historic DTLA. 550 S. Flower, 90015. www.thestandard.com
FIVE: The Bonaventure Lounge @Westin Bonaventure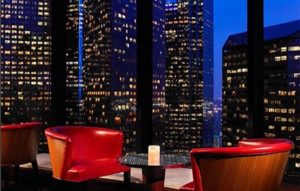 The Westin Bonaventure Hotel has got to be one of the most adored landmarks in all of Los Angeles. Built in 1974, the 35-story monument's smoked glass-elevator ascension to enlightenment conveys to award-winning restaurant/bars on both the 34th and 35th floors offering relaxed atmospheres and refined services. Breathtaking views of Downtown Los Angeles mix well with delicious appetizers and specialty drinks served in souvenir glassware. "It's the perfect location for a romantic date or high-powered business meeting". 404 S Figueroa Street, 90071. thebonaventure.com
SIX: Upstairs @The Ace Hotel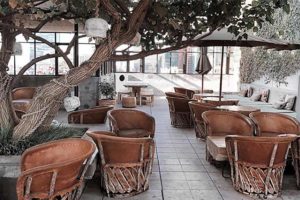 Inspired by Hollywood's famous Les Deux Cafe, Upstairs is the sky-high urban oasis at Ace Hotel. With a miniature pool and city lights stretched out in all directions, the bunker-like rooftop bar hosts events every night of the week — The 13th floor keeps DJs and live bands in constant rotation. Security is stern, and the bartenders can be a bit too serious, but the drinks are always strong so it balances out nicely. Plus, it's on top of a 100-year-old hotel. For history or architectural design buffs, from the lobby to rooftop, the renovated designs of the Ace Hotel are nothing less than splendid. acehotel.com

SEVEN: Broken Shaker @Free Hand Hotel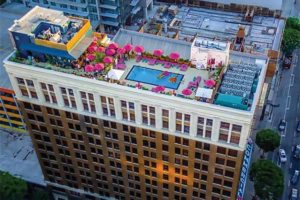 Freehand's hostel/boutique hotel brings DTLA a rooftop pool-deck bar full of culinary souvenirs from the Mediterranean to the tropics, with layovers in the Carribean and the Middle East. Playing on DTLA's love for exposed brick and rooftop pool parties with fantastic views, Broken Shaker quickly became an instant sensation. Broke Shak's eclectic menu of handcrafted cocktails and small bites earned them the title of Winners of Tales of the Cocktail's Best American Hotel Bar award, and Downtown Weekly's Best Time While Intoxicated Award after enjoying, the Trash Tini, a peculiar mix of Grey Goose, Plymouth Gin, Luxardo Bitter Bianco, charred onion infused noilly pratt, accented with a celery shrub. freehandhotels.com
EIGHT: Takami Sushi 
The Financial District has no shortage of skyscrapers.  If you really want to have a blast, consider taking the elevator 21 floors up to one of DTLA's most unique rooftop lounging experiences.  With a view that stretches around the corners of the rooftop exposing the south and west of DTLA and beyond, guests are only separated from the monstrous sky-capped neighbors by a thin smoked glass, making the atmosphere at Takami hard to top.
Takami has one of the most elegant wine list in Downtown beginning with their Bordeaux-style wine, Opus Meritage, One '07, '09, '11 from Napa Valley at $385, ending with classic metallic bottles of Armand De Brignac "Ace of Spade" Champaign from Reims, France, B at $550. 811 Wilshire Blvd, 90071.  www.takamisushi.com
NINE: 71 Above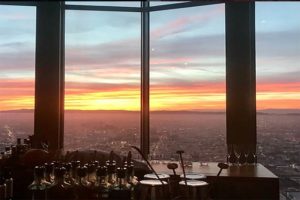 950 feet above ground level, OUE's 71 Above offers views of the open kitchen, incredible wine collection and unbelievable panoramic sights overlooking all of Los Angeles. As close to a perfect atmosphere as one can come for an elegant lounge experience, 71 Above boast a full bar with a handcrafted cocktail menu featuring both traditional and signature varieties. Downtown Weekly's cocktail of choice at 71 Above will always be the Sunset Cocktail (Peter McArthur), so fitting for the sophisticated, with its delicate mix of Siempre Blanco, Cinnamon, Lemon, Sweet Vermouth, Aperol, and Faire la Fête Brut, this cocktail pairs perfect with the full view of the sunset every evening.  633 W 5th Street. 90071. www.71above.com
TEN: Spire 73@Intercontinental Hotel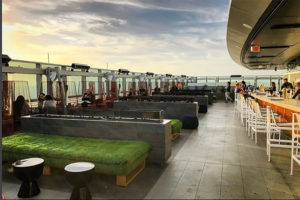 Enter the 73rd floor to Spire 73 – the tallest open-air bar in the Western Hemisphere. This rooftop lounge offers breathtaking views of the entire city, chic fire pits, signature cocktails and a wide selection of whiskey, including Downtown Weekly's recommended 1100 FEET, a mix of Glenmorangie scotch, Benedictine, Lillet blanc, creole bitters, and dried apricots as culinary expressions to rival the view. Entry is free for non-hotel guest but there is a  $25 entry fee after 8pm. Enjoy. www.spire73.com