The tide has definitely turned for delicious food options in Downtown Los Angeles.
These days, what used to be considered a desolate corner reserved for late night dwellers can easily turn into a tasty pacific island paradise, practically over night.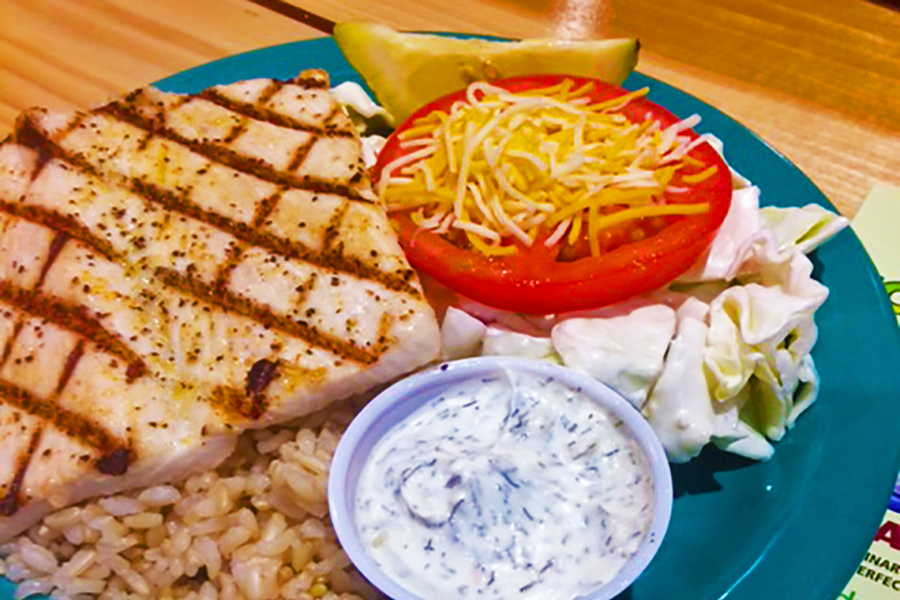 Such is the tale of Maui's Coconut Fish Café.
In 2009, Maui Coconut Fish Café opened its doors surrounded by the sway of palm trees, thick cumulous clouds and a calm ocean breeze. Founder and conceptualist Michael Phillips quickly discovered locals and tourist alike, hooked and easily reeled in by his new style of healthy Hawaiian fusion.
And what's not to love? 
When you walk through the doors be prepared to say "Aloha," as food ambassadors await to take your order, mindful to tell the Chef to avoid using any ingredients you may opt out on, such as gluten or dairy.
2013, Zagat awarded Maui's '27' for food, the highest tier reserved for "Extraordinary to Perfection." Also in 2013, they were featured in Travel + Leisure magazine in its list of "Top 100 Places to Eat Like A Local," and CNN's list of "Top 10 Places to Eat Like a Local" and their "Top 100 Seafood Restaurants in The World," so you may not want to leave out too much of the original ingredients. Either way, you're sure to enjoy chef driven foods made to order that are purposely created to amp up excitement for the next bite.
Seat yourself inside the dining area at any of Maui's handcrafted-wood, surfboard tables, complete with fin, to the sounds of the ukulele while watching flat screens of enormous waves being conquered by ambitious surfers. The atmosphere is light, socially agreeable and fills easily during weekday lunch hours.
"We use flavor profiles to try to do something a lot different than any body else does, that's why we cook the way we do and give you the best value; including fresh cut mahi-mahi, a Hawaiian fish with no smell, or stickiness or aftertaste," said Michael Phillips.
Vacation Much?
The catch of the day: ONO, Seared Ahi and MahiMahi,  Hawaiian Island's most prized game fish known for their delicate and flavored filets. Seared Ahi or local style grilled chicken are also served on brown rice and all are made grilled, Blackened, or Cajun style.
Floating on a bed of brown rice, Maui's cross-seared white mahi-mahi cuts are so delicate they practically melt in your mouth. They are delectable, but not only because they are masterfully seasoned and grilled to perfection but because they are among the few dishes you wouldn't expect to find anywhere at such an affordable price. That's when it finally sinks in, Maui's interior may be bright and airy, but dim the lights and it easily matches in taste and style, any four star equivalents.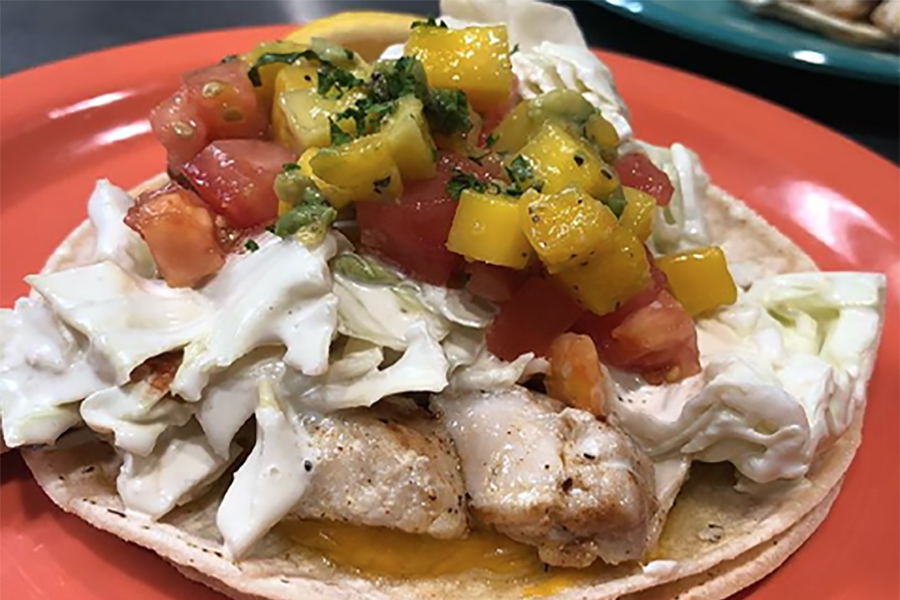 The Hawaiian style tacos are phenomenal. Hands down they win the Downtown Weekly "Pocoloco Award" for Best Seafood Munchies in the DT, especially for the way they manage to satisfy every expectation and leave you giddy, yet yearning for more. Here's a taco loaded with chunks of fish, chicken, steak or veggies, topped with 17 different ingredients, all distinguishable by taste and texture, including their housemade mango salsa.. Good thing there are 2 tacos to a plate served with a side of their famous signature coleslaw, because one is never enough.
Other menu items include "Fish and Chips," made with flakey breadcrumbs and homemade tarter sauce, never over battered or full of grease.
And then there's the Coconut Shrimp!
Served in formation and ready to be devoured one-by-one, the coconut shrimp from Maui's Coconut Fish Cafe are the best coconut shrimp appetizers downtown has to offer. Yeah, we said it!
Come on, really, you didn't think a place with the word "coconut" on the marquee wouldn't "wow" you with its coconut shrimp did you?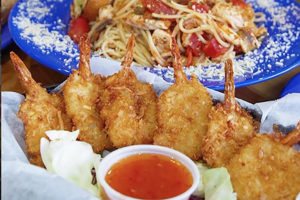 Well, actually, Maui's Coconut Fish Café is named after the family's beloved cat who looks down on the kitchen from heaven above, but that's beside the point.
Inside each crunch worthy delectable is a perfectly breaded mid sized shrimp enclosed in shredded coconut paired with Maui's house made Thai sauce, a sweet and sour dip that's almost drinkable.
Our saga continues…The tale of Maui's success culminates with a great team, but really began in the days of Michael's youth, growing up with a different kind of mother who made clam chowder with chunks of seafood not just clams. A mother who created her own seasoned salad dressings with about half the calories and one who certainly didn't believe in oil or mayo.
Homemade recipes Michael passed down to his own kids, who took the lead when creating Maui's famous coleslaw made with coconut milk (no mayo) and wildly chopped cabbage. A side of coleslaw unlike which you've ever seen or tasted.
Extended family member, Steven Tyler (Aerosmith) is one of the many loyal customers. He won't sing a note before eating at Maui's, while on tour in Hawaii.
Maui's also offers pastas, salads, desserts, baskets and a kids menu inside of each of its maculate settings, so clean you can run your finger through it, making Maui's Coconut Fish Cafe a culinary vacation for the entire family.
Today, with franchises in Sacramento, Cupertino, Hawaii and most recently, DTLA, Maui's Coconut Fish Cafe is one of America's most highly acclaimed franchises and its still growing at a rapid pace. The original Maui's still sees people waiting in lines up to an hour as the chain is known for surfing the wave to success from the Hawaiian Islands to the mainland. Maui's Coconut Fish Cafe is located at 809 South Hill, LA CA 90014. www.coconutsfishcafe.com