The future for scooters in DTLA (and elsewhere) looks very bright. In San Francisco and other towns, they're booming in popularity because of their hip cult following and their tremendous ability for cutting through the congestion of traffic.  In DTLA, we know all about traffic. Fortunately, thanks to Scoot a City we can rent a cool new Vespa to beat the gridlock or even take a leisure tour to explore the city and look cool doing it.

Recently, Downtown Weekly talked to Scoot a City's Head Scooterista, Ben Gary, to get the insight of experiencing the city on scoot. Scoot a City offers a collection of modern Vespas to domestic and international tourists as well as advertising and productions companies choosing to navigate the city and promote their companies with one of the world's biggest style icons.
"It's part of human nature," Ben said, "that we seek memorable experiences and adventures in life. It's not just doing something. We want to do something that'll stick with us forever."
He's right. Scooting a city on a Vespa is completely different than going around in a car or any other kind of transportation.
If Vespas look familiar to you, there are cultural reasons for that. "In Britain in the 60's, you had the mods and rockers youth subcultures. The mods rode scooters and the rockers rode motorcycles. Many of the mods rode Vespa scooters and modern Vespas still resemble the basic design and shape of the vintage Vespas the mods rode. The mod subculture rose to a level of prominence which British rock band The Who created their 1973 Quadrofenia album around.
But, Vespa was already a recognized style icon prior to the mods and rockers from the film Roman Holiday which starred Gregory Peck and Audrey Hepburn riding a Vespa in Rome." Unlike those vintage Vespas though, the modern Vespas Scoot a City rents have automatic transmissions, ABS brakes and fuel injection which makes them easier and safer to ride while also being more reliable. Scoot a City provides reliable, easy to use, environmentally and user-friendly models and most importantly, they're a lot of fun.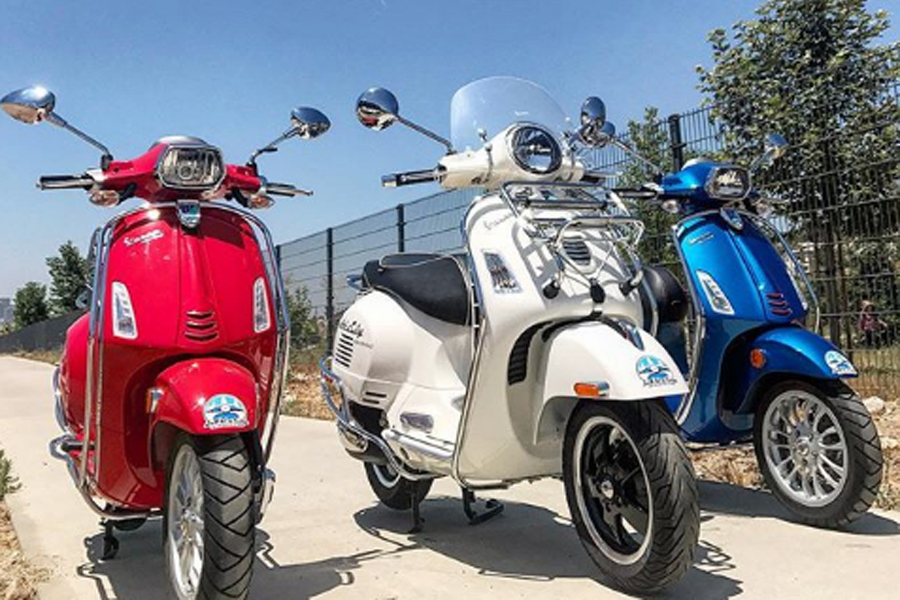 Another great thing about a scooter, as opposed to say a motorcycle is, as Ben says, they are relatively easy to ride with automatic transmissions, low weight and low center of gravity which make their scooters almost as easy to ride as riding a bicycle. Scoot a City allows the customer to choose the Vespa model, size, color and then accessorize the Vespa to the customer's liking. "We offer a bespoke Vespa rental experience, delivered to your doorstep", Ben states.
It's important to know that if you want to rent a scooter, you're going to need to have the appropriate license from your home state, province or country which would allow you to operate the scooter where you live. In most places around the word, that means you must have a special license such as moped, motorcycle or motor-driven cycle license.

Vespa Guided Tours!
Scoot a City also offers Vespa guided tours! Currently they offer a Malibu Coast Tour and Hollywood Stars Tour. The tours allow people to experience the best of Los Angeles in a unique and memorable manner.
Special Delivery!
Picking up and dropping off your scooter during your precious vacation time would be wildly inconvenient. That's why Scoot a City delivers and picks up from your doorstep. "They put in a delivery address and they put in a pickup address and we do the rest.", says Ben.
Better still, Scoot a City may be introducing a new scooter rideshare program to allow customers to activate Scoot a City scooters with a Scoot a City app similar to Bird or Lime, but to use Vespa and other freeway legal motor-scooters that allow customers to travel within greater metropolitan areas in an economical and efficient manner.
That's all in the future, though. Today's a good day to take Vespa out for a spin around Los Angeles. "We have people come in and ride them from all over the world," Ben says. Visit www.scootacity.com to book your Vespa and get ready to Start Your Adventure and Get Around!